Need to Remove Water Damage from a Fort Lauderdale Residence?
1/17/2023 (Permalink)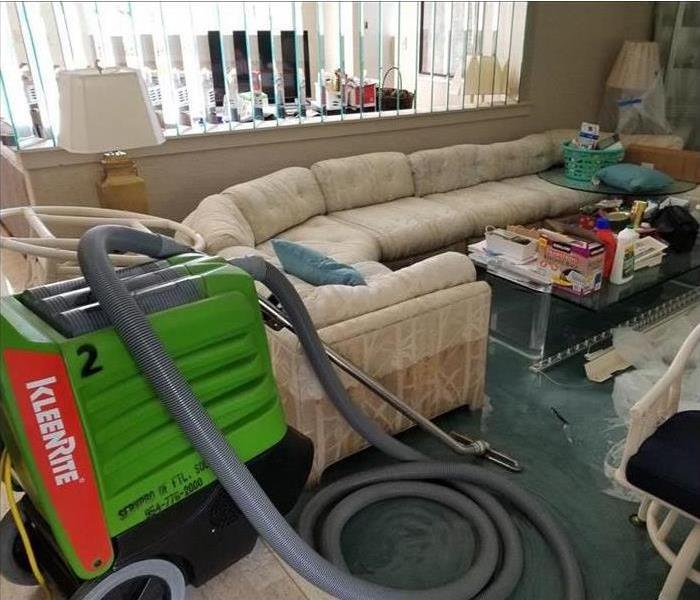 SERVPRO provides advanced drying equipment like this LGR-low grain refrigerant dehumidifier to mitigate Fort Lauderdale area water damage.
Fort Lauderdale SERVPRO Water Removal Technicians Offer 24/7 Mitigation
Regardless of the time of year, Fort Lauderdale properties are vulnerable to water damage from structural or appliance issues that can happen seemingly out of nowhere, much to the frustration of homeowners. As a result, water–and eventually microbial growth–can potentially affect a home's safety, indoor air quality, and the structural integrity of materials like drywall.
Extensively trained Fort Lauderdale SERVPRO water damage restoration technicians respond to cleanup calls 24 hours a day, seven days a week. This service includes weekends and holidays so community members can minimize home water damage while maximizing restoration potential for structures and contents.
Why Does Water Damage Smell?
Moisture tends to carry a distinctive, musty smell that is easily recognizable. However, Fort Lauderdale homeowners curious about this malodor's origins should know the following:
The smell does not come from the moisture itself but from bacteria or microbial growth in the water
Mold and other microbes can spread enough to emit a noticeable odor in as little as 24- to 48 hours after water damage occurs
Microbes thrive on a combination of relative humidity levels above 60%, lacking or inconsistent air circulation, warm temperatures, and availability of organic materials
Local SERVPRO professionals can remediate potential microbial growth and odors with commercial-grade water restoration services. Staff and franchise owners also undergo thorough training. They can pursue self-paced education modules about water damage's effects and implement effective remediation strategies.
SERVPRO Water Mitigation Services Go Beyond Cleanup and Odor Control
SERVPRO techs' water removal services focus primarily on safety and a restoration-first approach where possible. Some materials, like waterlogged sheetrock, are often easier and more economical to replace than simply clean and dry. Other items, like fiberglass insulation, can often be cleaned, dried, and restored successfully in a residential water damage scenario.
Water damage remediation technicians can expel moisture from surfaces with the help of 3-system extraction units. Most surfaces on a property only require the vacuum system, but the heater and pump systems are also available for implementation during the cleaning of upholstery and carpeting
Axial and centrifugal air movers work with low-grain refrigerant or desiccant dehumidifiers to remove, isolate, and collect moisture for disposal in a treated sewer
Porous materials impacted by water and microbes can be treated with hydroxyl generators, which use ultraviolet light to eliminate odor-causing bacteria
EPA-registered biocides double as sanitation and, to a lesser extent, odor control, especially when used in tandem with water damage deodorizing solutions
Fort Lauderdale restoration technicians can also implement build-back services after water cleanup that include drywall repairs, HVAC cleaning, and repairing tile flooring
SERVPRO professionals ensure that the water damage restoration process is successful with careful inspection and analysis with calibrated penetrating and non-penetrating sensors and meters. Potential damage behind walls and ceilings can also be detected with the help of thermal imaging cameras that can pinpoint changes in temperature consistent with wall cavity moisture exposure.
SERVPRO of Ft. Lauderdale South can be reached at (954) 776-2000 for comprehensive, emergency-response repair and restoration services.