Mold Removal Methods in Fort Lauderdale
9/9/2018 (Permalink)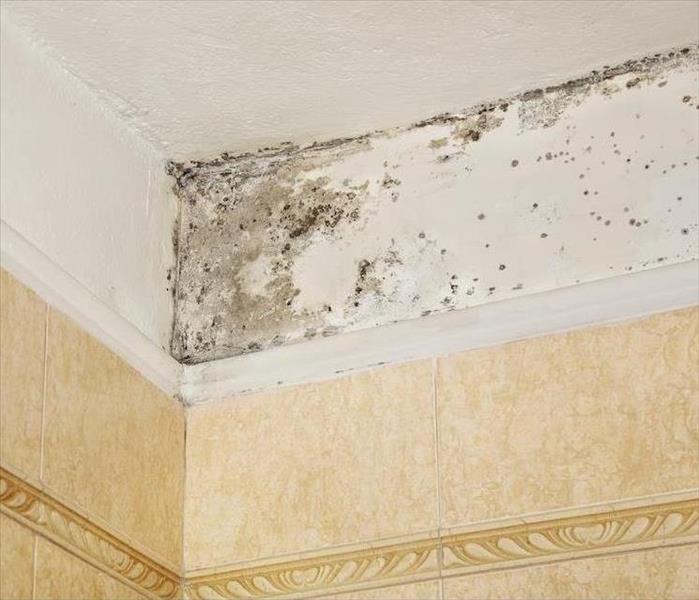 If mold spreads on the walls of your bathroom, contact SERVPRO to assess the damage and start the remediation process.
Team SERVPRO Offers Many Effective Mold Removal Methods
Mold is common to every home in Fort Lauderdale. Since mold spores are usually inert, they pose no more threat to the structure and its residents than common house dust. When spores become active, stopping growth and removing them is the only way to return each home to its original, clean condition.

Mold and the need for mold removal in a Fort Lauderdale home often start after a storm, or a major plumbing issue causes flooding. SERVPRO restoration teams understand that inert spores only need a small amount of water to expand and begin growing into a colony. In a short time, mold can grow to a point where it threatens the home's structure and can become a health risk to some people.

In most areas of the home, our technicians find any visible mold and then trace it to its origin point. Once it is all identified, they spray everything with an anti-fungal agent and wipe down affected surfaces with a dry sponge. If the layer is very thick, team members repeat the process until the surface is clean, or they switch to a brush or scraping tool to remove it. Once they complete the task, more team members bring in a vacuum hose to remove the mold and blow it into a sealed containment bag for disposal.

One of the new methods SERVPRO technicians have to remove thick layers of the mold is soda blasting. Similar to bead- or sand-blasting paint from a car, it is very efficient when mold grows wood surfaces like the roof support structure in an attic. Technicians use a high-powered spray gun to force a stream of soda and water across the mold, breaking it away from the support beams and other surfaces.

While the blasting action is fairly quick, the mixture of soda and mold forms a cloud. Technicians have to wear a mask to protect themselves, as well as coveralls and gloves to prevent skin irritation. After completing blasting, they use the same vacuum method to remove the mix of mold and used soda.

Removing mold from an area home is not a short or simple task. If you see mold or can detect that tell-tale musty odor; contact SERVPRO of Ft. Lauderdale South at (954) 776-2000 today. We are here for you.

Click here for more about Fort Lauderdale.